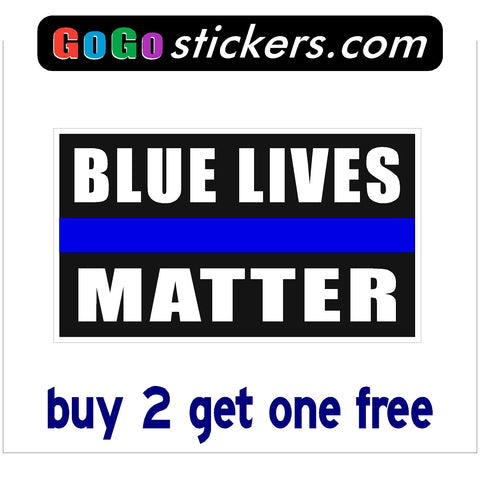 Police Protection Pack - Qty of 3 Blue Lives Matter - Black Background - Rectangle - apx 3.5" x 6" - USA - Patriotic - First Responders
I hate to say it like this, but having these stickers on my vehicle got me out of 3 tickets.  No guarantees for you of course, but if there's a chance it gets you out of a single $100 ticket, it's well worth.  Stick one on the drivers side, passenger side and by you license plate.  Get a pack for each of your cars.
Buy 2 packs and get 1 pack free, plus get free shipping.
We custom make and ship all Decals in the U.S., we use High Quality Concept Films Gloss White 3 mil calendared Vinyl, which has an outdoor durability of 5+ years.
All decals will have transfer tape already applied and ready for application. Decals can be placed on any flat, clean, interior or exterior surface.
* We make custom decals of any kind, if there's something you are looking for feel free to contact us at sales@gogostickers.com!
Decals can also be made a different size if needed (please ask about sizing before purchasing as the cost may vary) 
Blue Line Blue Lives Matter Police lives matter